ALTAR AND SCREEN OF THE 12 APOSTLES
Did you know that the FHC Altar was carved from from Bleu Belge marble?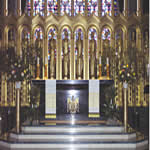 This black marble came from a Belgian quarry that has been in operation since the days of the Roman Empire. The pelican on the front of the altar is an ancient symbol for Jesus Christ.
Do you know the names of all the apostles on the FHC Altar Screen?
In many church designs, the pillars holding up the structure are adorned with statues of the 12 apostles. This is appropriate because our foundational beliefs come from the testimony and example of the apostles. "Apostle" means one who is sent, and the earliest use of the term designated those who were sent by Jesus to preach the Good News, just as Jesus was sent forth by God to reveal the Good News that God's love is stronger than sin and death. The term has been used broadly to include anyone specially sent forth to spread the faith, such as Paul, but it is most commonly used to refer to "the Twelve," those disciples selected and authorized by Jesus to carry on his mission.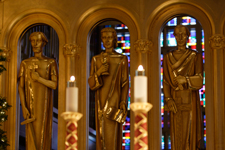 The number 12 corresponds to the 12 tribes of Israel, showing the connection to the faith of our spiritual ancestors in the Old Testament. These first apostles were Jesus' friends. They knew Jesus well, spent time with him, witnessed his Baptism, traveled with him as he preached, and watched his suffering, death, and resurrection. We know we can trust their accounts of Jesus' life and message. The Acts of the Apostles (1:13) includes the following list of 11 apostles (The twelfth had been Judas Iscariot, who was replaced after Jesus' Resurrection by Matthias, another longtime follower of Jesus). The 11 are: Peter; John; James; Andrew; Philip; Thomas; Bartholomew; Matthew; James, son of Alphaeus; Simon, the Zealot; and Jude (Thaddeus), brother of James. Despite their positions of authority, the apostles lived as servants of the church, spiritual shepherds, and fellow members of the community. They stayed true to their faith through much suffering. Many even died as martyrs.