PARISH LOGO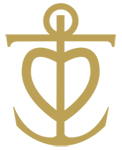 In order to spiritually examine the various symbols - both new and old - this question needs to be answered: What is Faith, Hope & Charity?
Some words which define Faith are confidence, trust, conviction, commitment, belief, constancy and assurance. All of these are envisioned in the Cross. Hope is described with expectation, anticipation, desire, possibility, reliance, trust, strength, aspiration and encouragement. These are reflected in the Anchor. Charity is seen as kindness, humanity, compassion, generosity, understanding, cherish and love. Hence, the Heart!
As Christians, we are truly blest! Throughout each life there are great joys and enormous challenges. But we, as Christians, can greet each one with the incredible certitude of Faith, the certainty of knowledge that we are totally loved by a Creator, a Father, who offers us the assurance of a strength and joy which arises from the depth of our soul.