MASS AND RECONCILIATION
SATURDAY
8:00 AM and 5:00 PM (Vigil Mass)

SUNDAY
7:30 AM, 9:00 AM, 10:30 AM and 5:00 PM
MONDAY - FRIDAY
7:00 AM
SACRAMENT OF RECONCILIATION
Saturday ~ 8:30 AM - 9:00 AM ~ in Church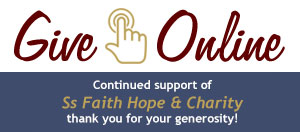 SHARING OPPORTUNITIES
Our sharing opportunity activities include:
Food Sharing Sunday: Every third Sunday of each month, FHC parishioners have the opportunity to help our sharing parishes and food pantries (St. James, St. Thomas, Holy Family & Howard Area Community Center) by purchasing and giving food to the hungry. In this program parishioners can donate bags filled with food and deposit them before 12:30 pm in the 2 confessionals of the East Transept or contribute cash or a check in the Food Sharing envelopes. We appreciate your participation in this simple project that feeds the hungry and nourishes their souls.
Organize Harvest Day Family Festival (October of each year) benefiting Children of Peace School. There are many volunteer opportunities available to assist in this fun filled day. Information will be in the bulletins and on the Parish calendar in the months preceeding the event.
Implement Project Turkey ($10 contribution) for needy families at Thanksgiving, Christmas, Easter.
Plan the Christmas Adopt-A-Family and Giving Tree programs during the holiday season.
Participate in the National Day of Service, a "Rebuilding Together" project, with Faith Hope and Carpenters. This spring project repairs a home of a needy local resident.
QUESTIONS?

If you are interested or would like more information on our Sharing Opportunity activities, please contact the Parish Office by phone: (847) 446-7646 or email: parishoffice@faithhope.org.