THE GUILD GIVES BACK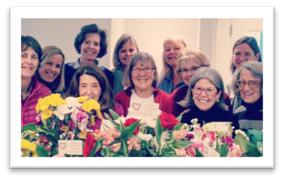 Each year, the Women's Guild organizes fundraisers and also makes monetary gifts to a variety of nonprofit organizations. Although COVID-19 dramatically limited our ability to hold in person events this past year, we raised funds for Blessings in a Backpack as part of a reimagined Advent Candlelight program and for Maryville Crisis Nursery in connection with our Spring Luncheon. Overall, we raised and donated over $20,000 to charities supporting women and children.
Recipients of the Women's Guild 2020-21 Donations:
After School Matters
Aid for Women
Blessings in a Backpack
Chicago Jesuit Academy
Curt's Café
Fenix Family Health Center
FHC Carpenters
FHC Parish, FHC School and FHC Religious Education
Josephinum Academy of the Sacred Heart
Kenneth Purnell's Souper Heroes
Lawrence Hall Youth Services
Love to Serve Inc.Tennis & Education Foundation
Madonna Mission
Maryville Crisis Nursery
Meals on Wheels NEI
Mercy Home for Boys and Girls
Mobile Care Chicago
Northshore University HealthSystem Breast Cancer Research by Dr. Katherine Yao
St. James Food Pantry
Sacred Heart Convent
SamaraCare
Sisters of Christian Charity
Many of these organizations have close ties to the Catholic Church, FHC parishioners and members of the Guild.
Thank you to all the women of the Parish who help the Guild continue this annual tradition of giving back by joining Bridge, becoming a Guild member, attending Guild sponsored events, and donating to Guild fundraisers. Together, we are making a real difference in the lives of others.
This year at the Guild, we will continue to donate our combined gifts of monetary donations and volunteered time to non-profit organizations / programs focused on "WOMEN & CHILDREN IN NEED".
To volunteer with the Guild or for any questions, please contact Emily Thomas at (847) 287-3216 or eae2144@sbcglobal.net.